Subscribe to Newsletter
Competitions
Advertise on www.PepUpTheDay.com
Free starter pack of fun and educational activities delivered to your door from Banjo Robinson - First 100 sign ups!
Banjo Robinson are offering a free starter pack for the first 100 sign ups through www.PepUpTheDay.com
Fun and educational activities, delivered to your door.
Activity Pack Delivered ● Twice a Month ● Sparking Curiosity and Creative Learning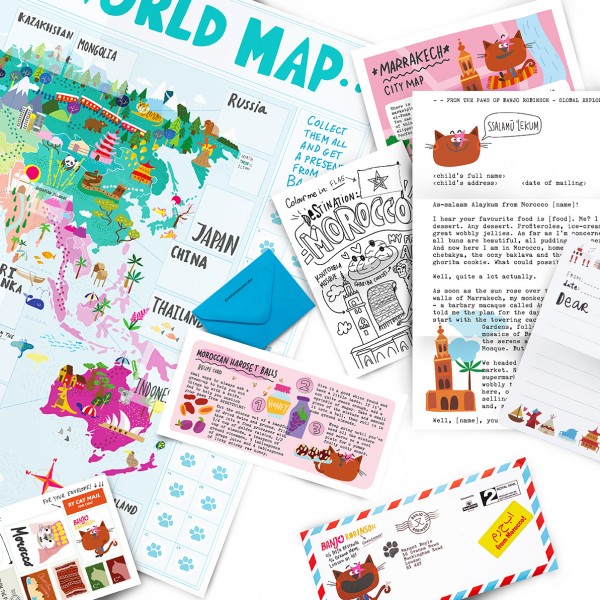 Banjo Robinson, Global Explorer!
From Nepal to New Zealand, Banjo visits a new country twice a month. As part of your child's starter kit they will receive an amazing map so they can follow along with his adventures.
He sends real letters
Wherever he is in the world, Banjo always finds time to write to his pals, telling them all about the amazing things he's been doing.
Letters prompt a reply
Banjo always encourages his friends to write a reply or draw a picture.
A screen-free activity you can enjoy together
No phone. No iPad. No TV. Just quality time. Post the letter under your sofa at night and, like the Tooth Fairy, it'll be gone in the morning.
Banjo answers their questions
You can add a paragraph to the end of the next letter that Banjo sends, answering questions or letting them know he cares.
THE FREE STARTER KIT INCLUDES:
A free World Map poster, a personalised letter from Banjo (written by children's author, Anna Kemp) and a hands-on activity pack including: country stickers, colouring-in activities, reply stationery and stamps.
Terms and Conditions
This trial is completely free for 21 days.
You can cancel at any time.
After 21 days you will be charged £39.99 for a 6 month subscription.
We hope you enjoy your special free starter pack...
Banjo Robinson
See all listings from Banjo Robinson
Newsletter
To sign up up for PepUpTheDay.com newsletters, please click here.
Please mention PepUpTheDay.com when contacting this advertiser.