Subscribe to Newsletter
Competitions
Advertise on www.PepUpTheDay.com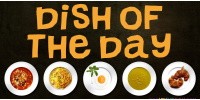 Contact Information:
Dish of the Day

Website: Click Here
If you have reason to believe this advert is out of date, please click here to report it to PepUpTheDay.com.
Dish of the Day - Tuesday 9th June 2020 - Sent in by Bea
During lockdown, I have been experimenting making pizza. After a few disasters, including an uncooked dough, burnt topping and a very soggy bottom, I think I now found the best solution.

This includes a basic sourdough recipe (starter, water, flour and salt) plus a good oven that will get up to a high temperature - 300 degrees centigrade.

The trick for me was to pre-bake one single base at the time for 8 minutes. Whilst the base was cooling down on a wire rack I managed to prebake a further three and prepare the toppings for two. (Two bases are now in my freezer) I returned the topped and decorated pizza to the hot oven and this time I baked it for 10 minutes. The base was perfect. Not a soggy bottom in sight. The topping was satisfying and well balanced for my taste. I did try cutting it using my pizza slicer, but decided that the kitchen scissors worked better.

I like my pizza served with rocket leaves, drizzled with EVO and a pinch of sea salt/dried chili flakes.

How do you like your pizza?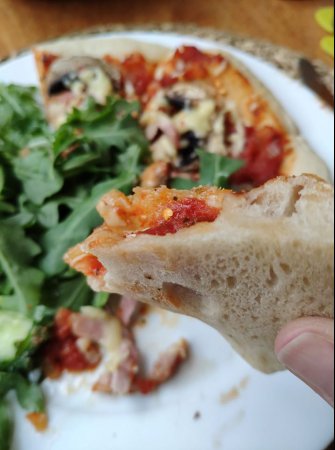 More details about Dish of the Day - Tuesday 9th June 2020 - Sent in by Bea
Dish of the Day
You can send us photos of your lunch or dinner and we will share them for you here.
Maybe even include the recipe or some tips on how to cook it...
Or a photo of you and your family eating it? Sent to stories@pepuptheday.com
See all listings from Dish of the Day
Newsletter
To sign up up for PepUpTheDay.com newsletters, please click here.
Please mention PepUpTheDay.com when contacting this advertiser.