Subscribe to Newsletter
Competitions
Advertise on www.PepUpTheDay.com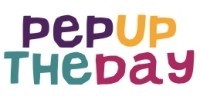 Contact Information:
PepUpTheDay.com
89 Andover Road
Cheltenham
Gloucestershire
GL50 2TR
Tel: 01242 236608

Email: office@pepuptheday.com
Website: Click Here
LOTS MORE COMPETITIONS TO ENTER here or on the Competitions tab above.
If you like this, do feel free to share on social media and tag @PepUpTheDay if you want us to see it.
If you have reason to believe this advert is out of date, please click here to report it to PepUpTheDay.com.
NOW CLOSED MINI SAGA COMPETITION: Write a story in 50 words and enter our competition
A Mini Saga is a story of no more, and no fewer, than 50 words! We would like to invite you to our Mini Saga Competition...
The title does not count in the 50 words, just the actual story and you can not have 49 or 51 words.
So why not see what you can come up with?
The winning entry will win a £25 Love to Shop card, which can be spent in Marks and Spencer, Debenhams, Boots, Argos, Fat Face and over 80 other shops.
COMPETITION NOW CLOSED - WINNERS WILL BE ANNOUNCED SHORTLY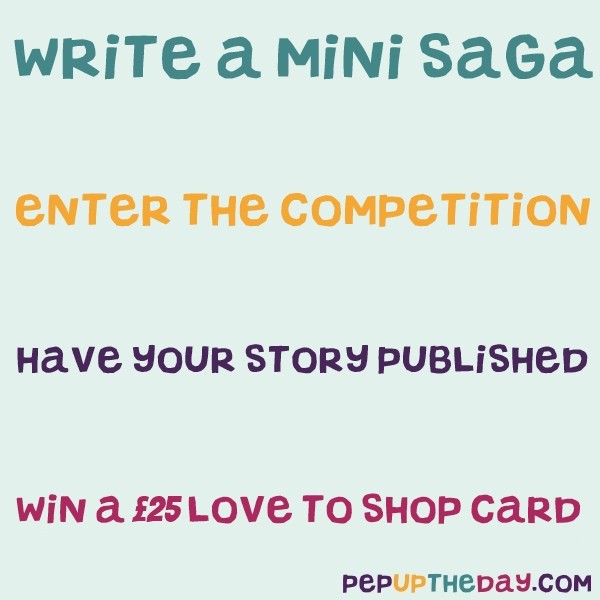 Some entries in a previous competition run by The Telegraph is:
Winner = War And Pieces by Mary Ann Slater
"Edge pieces first," he decrees.
All others are rounded up, segregated.
"Blues into the blue pile, browns into the brown. Do not mix them."
My moves are restricted (a tree here, a cloud there), while he attacks the castle.
I smuggle a piece into my pocket: the revolution has begun.
Second Prize = The Price of Freedom by K C Holt
"I accept," he whispered.
"Good," said the General, "then you are reprieved."
"Executions begin at dawn, your job is to fit the nooses and push the condemned off the scaffold edge."
"Will I wear a hood?"
"No," said the General gently, "but your father and your brother will be blindfolded."
Runner Up = On-the-Spot Interview With the First Person to Swim the Atlantic, Underwater by Tom Shaw
Passing a towel, I begin: "Why?"
Goggles removed and welt-framed eyes wincing, he touches it gently to his pallid face.
"Underwater my sadness cannot exist. Silent silver jellyfish bear it away, upwards into the infinite, existence and progress simultaneously confirmed."
"What now?"
He shrugs wearily, then smiles: "A bath?"
(© Copyright The Telegraph and the Authors)
If you would like some Advice on Writing a Mini Saga, you can find some tips here.
TO ENTER THE MINI SAGA COMPETITION
1. Write your mini saga, add the title and your name. Check the number of words using Word Counter?
2. The title should not exceed 15 words, but often long titles apparently sink a promising story. Shortened words with apostrophes count as one (eg. I'm, you've). Hyphenated words count as one.
3. Either email it to office@pepuptheday.com or upload it to the pinned post on our Facebook page.
4. The competition closes on Sunday 6th December 2020.
5. The winner will be chosen by the team at PepUpTheDay.com HQ, which includes a winning writer who had a mini saga published in the 1997 Mini Sagas Competition book run by The Telegraph.
6. All entries will be published on PepUpTheDay.com and a selection will be shared on social media.
7. Multiple entries are allowed.
We look forward to reading your entries!
More details about NOW CLOSED MINI SAGA COMPETITION: Write a story in 50 words and enter our competition (External Link)
PepUpTheDay.com
See all listings from PepUpTheDay.com
Newsletter
To sign up up for PepUpTheDay.com newsletters, please click here.
Please mention PepUpTheDay.com when contacting this advertiser.